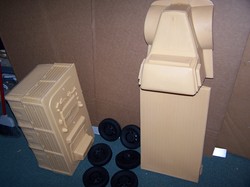 Basic Opel Blitz Kit
New basic Opel Blitz kit includes new reworked body (with no rear fender) in heavier plastic, cargo box with parts molded on bottom (to be cut out and used by owner if wished), 6 of our new Opel Blitz wheels which can be used on the front or in the rear (reversed) as dual wheels.
BASIC FULL KIT will be $260 plus shipping. Bships by USPS in two boxes if you buy with the cargo box. Email me at rich.bgv@gmail.com for info!