WHO WE ARE AND WHAT WE OFFER!
WELCOME TO BATTLEGROUND VEHICLES. WE ARE 3 MODEL BUILDERS AND A NUMBER OF OTHER FOLKS WHO GET TOGETHER TO CREATE KITS OF 1/6th WW2 VEHICLES. WE CURRENTLY HAVE ADDED A LINE OF PREBUILT 1/6th PREBUILT/PREPAINTED FIBERGLASS MODELS.
WE OFFER VARIOUS LAYAWAY PROGRAMS FOR VARIOUS VEHICLES
WE SHIP WORLD WIDE VIA US OR PHILLIPPINE MAIL SERVICE
IMPORTANT NOTICE:
IMPORTANT NOTICE ON OUR SHERMAN TRACK LINKS. WE ARE SOLD OUT OF OUR CURRENT STOCK OF SHERMAN LINKS AND CANNOT RESTOCK TIL SPRING OF 2011. WE SUGGEST YOU PURCHASE THE FINE LINKS OVER AT PANZERWERK.COM (CLEATED STYLE WITH DUCKBILLS) AND HAVE CUT OUR PRICE OF ALL OUR M4 BASED KITS BY 100.00 TO HELP YOU PURCHASE THESE LINKS FROM PANZERWERK IN THE MEANTIME.
CHECK OUT OUR LINKS PAGES!!!

SINCE WE ARE A GROUP OF MODEL BUILDERS AND NOT A BUSINESS WE HAVE THE FREEDOM TO OFFER MANY LIMITED RUN KITS OR VEHICLES AS WELL AS OUR KITS! WE DO REVIEW AND WE DO TAKE INTO ACCOUNT SUGGESTIONS ON PROJECTS AND HOW TO IMPROVE OUR LINE OF VEHICLES. FEEL FREE TO EMAIL ME AT reynolds1948@verizon.net WITH YOUR QUESTIONS, IDEAS, SUGGESTIONS, OR JUST TO SAY "HOWDY"!!!
TIM (PLASTICPANZERS)
Click here to email me questions!
DISCLAIMER:
WE AT BATTLEGROUND VEHICLES DO NOT NOR WILL EVER CONDONE THE HORRORS BROUGHT UPON THE WORLD BY NAZIS AND THOSE THAT HATE. MY FAMILY HAS PROUDLY FOUGHT FOR FREEDOM SINCE WE CAME TO THE US OVER 130 YEARS AGO. MY GRANDAD IN THE US ARMY AND RCFC, FATHER IN THE USN IN WW2, UNCLE IN US AIRBORNE IN WW2, BROTHER AND HIS SONS IN USMC IN VIETNAM-DESERT STORM. OUR MODELS AND KITS ARE MEANT FOR HISTORY BUFFS, MODEL BUILDERS, AND COLLECTORS OF 1/6TH SCALE ACTION FIGURES.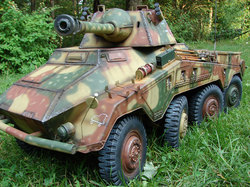 ABOVE: PIC OF ONE OF OUR PUMA KITS HEAVILY CUSTOMIZED!
CHECK OUT THE SHOWCASE PAGES TO SEE WONDERFUL PRODUCTS AND PROJECTS BY OTHER MANUFACTURERS AND COLLECTORS IN THE HOBBY!
click here to visit the site of collectors collections! NEW!